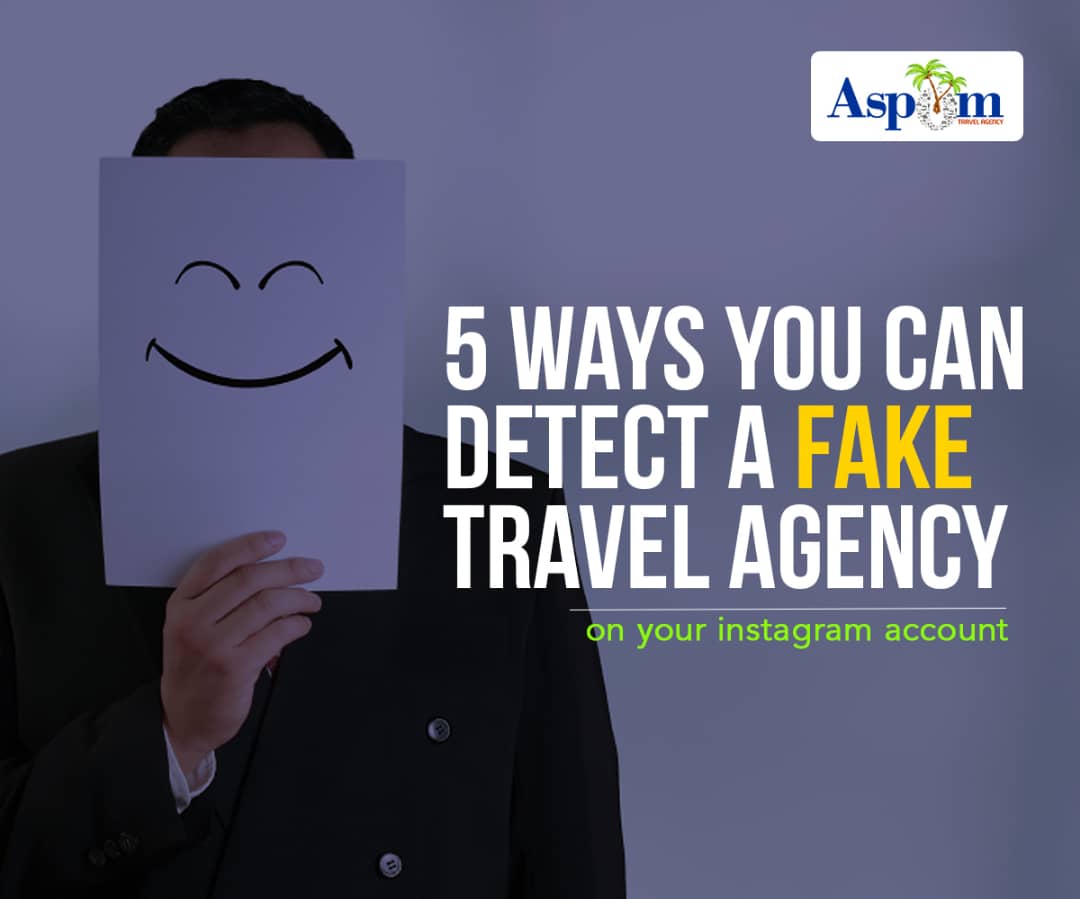 HOW TO DETECT A FAKE TRAVEL AGENCY
Have you ever lost your money while trying to travel to China, Dubai, Sweden, or the United States? Have you dealt with travel agencies that failed to deliver after collecting upfront payments from you? Have you been issued travel documents that failed to get you a pass at the airport? Well, chances are that you will still lose more money to (fake) travel agencies unless you learn to identify ways to detect what they are: scammers. Here are 5 ways to identify and detect fake travel agencies:
1. They conduct their business online. No physical office. 
Does that tell you anything? Imagine clicking on the "Contact Us" page of any website only to see a contact form, without any given business address or contact details of the operators. If all you see on the contact-us page of a website is a contact form, then you better take to your heels fast.
Scammers that operate a fake travel agency usually have no physical office address. They set up a website with some form of quality using pictures stolen from destination websites to create a beautiful and convincing site and then ask tourists to make payments for travel bookings and tourism sites. Then they disappear once they collect your payment…yes, they close down the website and set up another to start the process all over again.
Scammers even go to far extents to create duplicate websites of real travel agencies, using Google adsense to make it look real. They also use legitimate logos and ask you to fill out application forms for cheap travel deals. And once they collect your credit card information – which are charged right away – then they scam.
2. It looks too cheap to be true
There is a common saying that "if it looks too good to be true, then it probably it." If someone offered you an all-inclusive two weeks deal-of-the-week travel plan to the Mayan Riviera for only $340, shouldn't your warning alert light up? Or if anyone asked you to bring only $720 for a week tour of the Caribbean and Hawaiian islands aboard a luxury yacht, shouldn't you question your own greed for wanting to jump at the mouth-watering offer?
One of the ways to detect fake travel agencies is that they offer cheap travel deals that can never be realized. Don't ever think you are making a kill with any travel plan, look further to ensure you are not being ripped off.
3. No recommendations, referrals, and reviews
If you find no one recommending a "new" travel agency that "just started business last month," then you must beware. A worthy and experienced travel agency with years of experience on the job must have satisfied customers who have used it recommending it to others. So if you find no one you trust recommending a new travel agency you never heard of before to you or others, then you must read meanings into it.
You must also be on the lookout for reviews, both positive and negative. All reviews are expected to be positive, but a few negative reviews thrown into hundreds of positive reviews gives credence and value to the opinions of people who have used the services of the travel agency under review.
4. Ask to see company registration documents, business licenses
This might not be easy to do, but it is never out of the question. Tell the travel agency you can't forward any travel payments to them without sighting the originals of their registration certificates and travel industry membership cards. Anything to convince you: association cards and certificates, company documents, statements of accounts, memorandum of association, addresses of chief executives, business licenses, and any valid documents that gives you a sense of security before parting with your money.
A travel agency that couldn't provide you with most of these without telling you they are just setting up business is probably fake, and you must take heed. You may even ask to speak with customers that have used their services before any travel options or parting with your money, and the more you have to convince you the better for you.
5. Beware of shortcuts 

Do not agree if your travel tour company or travel agency suggests that you dress in a particular way to deceive immigration officials, or pass a shortcut route to avoid unpleasant scenarios, it might be a scam to rip you off. Asking you to travel by one way when the other way is the most commonly used and generally approved should raise questions in your mind as to the intentions of the travel agency. Asking you to travel by night, during national holidays and local festivals, through backdoor channels, and anything that seems a shortcut or fishy should get you flying out the door.
There are several other pointers to alert you to the scams perpetrated by fake travel agencies, but the ones listed above should give you heads-up on what more to know about travel deal scammers anywhere in the world.
http://aspombirthservices.com/wp-content/uploads/2017/03/ASPOM-NNEW-300x104.png
0
0
aspom
http://aspombirthservices.com/wp-content/uploads/2017/03/ASPOM-NNEW-300x104.png
aspom
2018-06-28 16:21:41
2018-06-28 16:21:41
HOW TO DETECT A FAKE TRAVEL AGENCY